Title : KAIZOKU SENTAI GOKAIGER vs SUPER SENTAI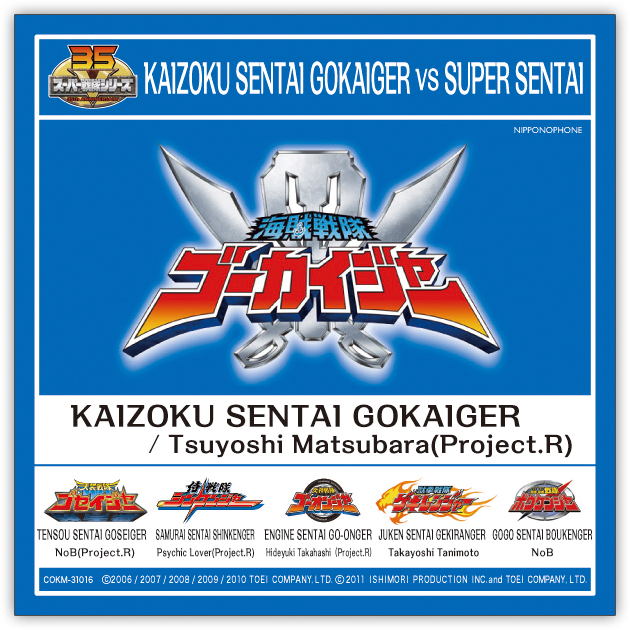 © 2006/2007/2008/2009/2010 TOEI COMPANY, LTD.
© 2011 ISHIMORI PRODUCTION INC.and TOEI COMPANY, LTD.
Track List ( Song Title / Artist )
KAIZOKU SENTAI GOKAIGER / Tsuyoshi Matsubara ( Project.R )

TENSOU SENTAI GOSEIGER / NoB ( Project.R )

SAMURAI SENTAI SHINKENGER / Psychic Lover ( Project.R )

ENGINE SENTAI GO-ONGER / Hideyuki Takahashi ( Project.R )

JUKEN SENTAI GEKIRANGER / Takayoshi Tanimoto ( Project.R )

GOGO SENTAI BOUKENGER / NoB ( Project.R )

Distribution Area
Distribution in 19 Countries Via the iTunes Store List of countries and regions where distribution will be available


---
Theme Song - OFFICIAL PROMOTION VIDEO

message from Tsuyoshi Matsubara (Project.R)
What is the Super Sentai Series?
What came to be known as the Super Sentai Series began with Himitsu Sentai Gorenger, a superhero TV series produced in response to the popularity of the earlier Kamen Rider and initially broadcast for two years from 1975. Since Gorenger, the Super Sentai Series has basically consisted of a different new series produced and broadcast each year. These various series all have two main points in common. Firstly, in each series there are several heroes who fight together against enemies, and secondly, each of the fighters in a given series is distinguished by their own unique costume color. This flexibility allows lots of heroes to appear. The 35th and latest Super Sentai Series, Kaizoku Sentai Gokaiger, launched in Japan from February 13, 2011.
 

▼「SUPER SENTAI SERIES Theme Songs Collection」▼

Album price inc. sales tax:
$9.99 (U.S.A.)
Single track price inc. sales tax:
$0.99 (U.S.A.)



Title:「SUPER SENTAI SERIES Theme Songs Collection Vol.1」
Catalog No.  COKM-31037
Tr.01 Susume! GORENGER
Tr.02 HIMITSU SENTAI GORENGER
Tr.03 JAKQ DENGEKITAI
Tr.04 Itsuka Hana Wa Sakudarou
Tr.05 BATTLEFEVER J
Tr.06 Yusha Ga Iku
Tr.07 Ah DENSHI SENTAI DENZIMAN
Tr.08 DENZIMAN Ni Makasero!
Tr.09 TAIYO SENTAI SUNVULCAN
Tr.10 Wakasa Wa Plasma
Title:「SUPER SENTAI SERIES Theme Songs Collection Vol.2」
Catalog No. COKM-31038
Tr.01 DAI SENTAI GOGGLE-V
Tr.02 Stop The Battle
Tr.03 KAGAKU SENTAI DYNAMAN
Tr.04 Yume Wo Kanaete DYNAMAN
Tr.05 CHODENSHI BIOMAN
Tr.06 Biomic Soldier
Tr.07 DENGEKI SENTAI CHANGEMAN
Tr.08 Never Stop CHANGEMAN
Tr.09 CHOSHINSEI FLASHMAN
Tr.10 Fightingpose FLASHMAN
Title:「SUPER SENTAI SERIES Theme Songs Collection Vol.3」
Catalog No. COKM-31039
Tr.01 HIKARI SENTAI MASKMAN
Tr.02 Aino Soldier
Tr.03 CHOJU SENTAI LIVEMAN
Tr.04 Ashita Ni Ikiruze!
Tr.05 KOUSOKU SENTAI TURBORANGER
Tr.06 Zigzag Seishun Road
Tr.07 CHIKYU SENTAI FIVEMAN
Tr.08 FIVEMAN Ai No Theme
Tr.09 CHOJIN SENTAI JETMAN
Tr.10 Kokoro Wa Tamago
Title:「SUPER SENTAI SERIES Theme Songs Collection Vol.4」
Catalog No. COKM-31040
Tr.01 KYORYU SENTAI ZYURANGER
Tr.02 Boukenshite Rappa-PeeYa!
Tr.03 GOSEI SENTAI DAIRANGER
Tr.04 Oretachi Mutekisa!! DAIRANGER
Tr.05 Secret KAKURANGER
Tr.06 Ninja! Matenrou Kids
Tr.07 Ole! OHRANGER
Tr.08 Kinkyu Hasshin!! OHRANGER
Tr.09 GEKISO SENTAI CARRANGER
Tr.10 Tengoku Samba
Title:「SUPER SENTAI SERIES Theme Songs Collection Vol.5」
Catalog No. COKM-31041
Tr.01 DENJI SENTAI MEGARANGER
Tr.02 Ki No Seikana
Tr.03 SEIJU SENTAI GINGAMAN
Tr.04 Hadashi No Kokorode
Tr.05 KYUKYU SENTAI GOGO-V
Tr.06 Kono Hoshi Wo Kono Machi Wo
Tr.07 JIKU ~MIRAI SENTAI TIMERANGER ~
Tr.08 Toki No Kanatae
Tr.09 GAORANGER Hoero
Tr.10 Heelin' You
Title:「SUPER SENTAI SERIES Theme Songs Collection Vol.6」
Catalog No. COKM-31042
Tr.01 HURRICANEGER Sanjou!
Tr.02 Ima Kaze No Naka De
Tr.03 BAKURYU SENTAI ABARANGER
Tr.04 We Are The One ~Bokura Wa Hitotsu~
Tr.05 TOKUSO SENTAI DEKARANGER
Tr.06 Midnight DEKARANGER
Tr.07 MAHOU SENTAI MAGIRANGER
Tr.08 Jumon Kohrin~Magical Force
Tr.09 GOGO SENTAI BOUKENGER
Tr.10 Boukensha On The Road
Title:「SUPER SENTAI SERIES Theme Songs Collection Vol.7」
Catalog No. COKM-31043
Tr.01 JUKEN SENTAI GEKIRANGER
Tr.02 Tao
Tr.03 ENGINE SENTAI GO-ONGER
Tr.04 ENGINE First Rap -Type Normal-
Tr.05 SAMURAI SENTAI SHINKENGER
Tr.06 Shirokuji Muchu SHINKENGER
Tr.07 TENSOU SENTAI GOSEIGER
Tr.08 Gatcha☆GOSEIGER
Tr.09 KAIZOKU SENTAI GOKAIGER
Tr.10 Super Sentai Hero Getter