Concert Report
The boy met the girl."
-Tomita Isao × Hatsune Miku : Ihatov concert report-
- Synthesizer maestro Isao Tomita held "Symphony Ihatov" world premier concert with an electric diva Hatsune Miku at Tokyo. It became an epic of the history of synthesizer music. -
On November 23, 2012, the world premiere of the "Symphony Ihatov" was held under the auspices of Billboard Japan and Japan Philharmonic Orchestra at Tokyo Opera City concert hall.
Two persons concerned with this premiere, and it became the milestone of the history of synthesizer music. One person is a composer, Isao Tomita, a legend of synthesizer music. The other "person" is a soloist, Hatsune Miku, a virtual idol of voice synthesis software.
Isao Tomita is one of the earliest pioneers of synthesizer music. He had popularized synthesizer music all over the world with authentic "Moog modular synthesizer".
He showed infinite possibility of synthesizer by using impressionistic classical music, such as "Snowflakes Are Dancing" by Debussy, "The planets" by Holst, and "The pictures at an exhibition" by Mussorgsky.
In advance of release in Japan, these vinyl LPs were released on the market from RCA Records in the U.S. and had been hit explosively in the 70s. They were ranked Top of Billboard classical hit chart, nominated Grammy Award, and also elected as the classic section best record of National Association of Record Merchandisers in 1974.
He had also composed many orchestra works for TV drama, anime and movie songs in Japan. These songs have still attracted widespread popularity in Japan.
Hatsune Miku is the singing voice synthesis software based on the Vocaloid technology developed by Yamaha was released from Crypton future media in 2007.
Many Japanese composers, regardless of amateur or professional, were charmed by her cute voice, and immediately contributed their works on NicoNico-Douga, the biggest video sharing site in Japan.
The music inspired may listeners to mush up their illustrations, and animations, singing/dancing videos, making videos from fancywork to robots, 3D modeling software, and so on. Hatsune Miku become the CGM phenomenon, not only music but also media. In 2008, Miku had played virtual concert with famous game company, SEGA. 3D model Miku was projected on the transparent screen and live band played behind her. The concert became a great success, and held globally, in U.S, Thai, Taiwan, and China.
Now she became well-known virtual idol all over the world.
This time, Hatsune Miku went back to basics, and participated in this symphony as a soloist.
Tomita got to know Hatsune Miku by the documentary of TV in February, this year. He felt the one of the concept behind Hatsune Miku phenomenon, ethereal everyone's diva incarcerated in the small PC box. This concept was just fit for his long-term attempt to compose music for the fantasy world of Kenji Miyazawa, well-known fantasy writer and poet in Japan.
He asked Crypton future media to promote Hatsune Miku in his symphony. Hiroyuki Ito, CEO of Crypton future media, reacted immediately and invited him to her virtual concert in March, the next day of his proposal.
Ito told Mr. Tomita had been standing up at the wing of the stage for 2 hours to watch the concert. When he had used the Moog, he struggled to make synthesizer sung. 40 year later, he watched the real singing, and moreover dancing, synthesizer idol. The project had started from May. Crypton future media respected the synthesizer legend's achievement, and they decided to develop new technology.
From technology viewpoint, this concert will be memorized the first concert that Miku sang and danced in according to the conductor's command.
Before this concert, players had always performed with hearing "clock" synchronized with the rhythm of pre-rendered Miku's singing. In this concert, a manipulator sits down in front of a conductor, and input the part of the song of Miku assigned to the keyboard according to the command according to a conductor's command.
Because of the system's delay, a manipulator must play keyboard subtle ahead of conductor's command for live harmonizing other part of orchestra members.
This is also the first step of the big paradigm shift which changes the future concert to Miku Controlled from Miku Controls. It needed very hard work, because the development and exercise had been promoted simultaneously with Tomita's composition, and had very short time to complete, but they did it.
Hatsune Miku was well-known as rain bringer, and the concert was also held under autumn chill rain at the concert hall in Shinjuku, Tokyo. It was also streamed over YouTube.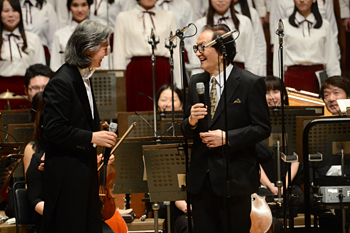 After some classical medley of his past songs, "Symphony Ihatov" had been played with Japan Philharmonic Orchestra with conductor, Naoto Otomo. It consists of five movements and each part is assigned Kenji Miyazawa's fantastic masterpieces. Miku participated in four movements, and whenever her part started, she appeared from the shadow of the penetration projection panel above the orchestra pit, and sung and danced in the fantastic illumination. Sometimes she sung mechanical voice as a virtual diva caught by the cage of electric box, another time monotonous vice as severe cold wind onomatopoeia, and the other time ethereal girl's voice as a navigator of the train loaded spirits of the dead through the Galaxy to heaven. And finally she sung with the chorus of children and adult choir. The harmony of Synthesizer and human voice, this was exactly the integration of Tomita's world. 1500 people in the hall and YouTube steaming listener in the world had just experienced new style of fantastic synthesizer music.
Miku had also announced in encore and sung opening song of "Princess Knight" which is one of Osamu Tezuka's TV anime masterpieces with the cheerful dance. So, Isao Tomita had also composed many Tezuka's anime.
MasatakaP, the motion creator of Miku in this concert, tweeted that Tomita watched this holographic animation in the rehearsal and told to him, "Probably, Osamu Tezuka carried out tears of gratitude if alive. Osamu Tezuka's dream suited at last at hand now".
Not only eternal 16 years old electron diva gives the motivation to the symphony of the maestro of electronic music, but also 80 years old Isao Tomita's intellectual curiosity opens her new possibility.
And at last, the boy met the girl.
This "Symphony Ihatov" world premiere live recording will be distributed world wide via iTunes at 2013/1/23, from Japanese Colombia (http://columbia.jp/ihatov/)
3013.net
---