The whole world watched on to the amazing sliding Cat!!
Winner of the YouTube VIDEO AWARDS JAPAN 2008&2009!!
The charming feline who presented viewers around the wolid with llaughter and amazement. Maru's ,the unpreceded"Cat Entertainer!!"
Includes sequences of Maru's specialty "sliding", with tips from Maru himself. Also with never seen before footage of him playing with his favorite toys, taking a bath, and performing music.A must see for all cat lovers and Maru lovers!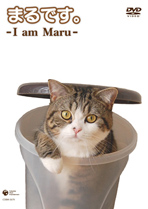 COBM-5679 2,381yen+tax
Contents
OPENING/I am Maru / Normal day with Maru / Laundry Basket / I won't be fooled!/ Bath Time /Grooming Time / Slide in Tunnels / Maru's Toy /Memories of Childhood/Lazy Play /Maru's Reserved Seat / The Cat Tower
/Catch This Finger/maru's Concert /Ending
Privilege

Maru's Bath Rub Play
Top10 Slide-ins

Slide Show
Supervision:mugumogu
Offer:Show Gate
Production:Tambourine Pictures
(C)2010 mugumogu/showgate.inc Photo(C)mugumogu
Language: Japanese
Region: All Regions
Run Time: 54 minutes
Format: Color, NTSC
Sound:Stereo/Dolby Digital