Release

Japanese /

English / Liner Notes
Travelogue
23rd December 2020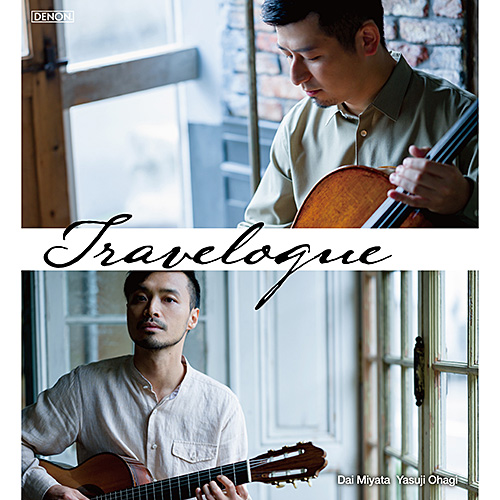 【UHQCD】COCQ-85518 3,300yen
---
Track List:
1. Michel Legrand :Arrivée des camionneurs
2. Astor Piazzolla:Tanti Anni Prima
3-5. Radamés Gnattali:Sonata for Cello and Guitar
 Ⅰ-Allegretto comodo
 II-Adagio
 III-Con Spirito
6. Frederic Chopin:Cello Sonata Op.65 III. Largo
7. Erik Satie:Je te veux
8. Maurice Ravel:Pavane pour une infante défunte
9. Astor Piazzolla:Oblivion
10. Astor Piazzolla:Invierno Porteño
Dai Miyata, cello
Yasuji Ohagi, guitar
Recorded on 2-3 July, 2020 in Ueda, Japan
---
Liner Notes
by Takaakira Aosawa
Two Artists Living on a Journey
Musicians spend most of their lives on various journeys. Even for those who rarely go on concert tours, they experience a wide variety of journeys through the world of music that they play. Of course, it's not just the musicians. We listeners are the same way. Music and performances are, so to speak, like the boats that carry us on a journey.
Cello and guitar. What are the charms of these instruments chosen by Dai Miyata and Yasuji Ohagi respectively, or why did these instruments choose them? For musicians, their instrument must be a bag that carries music, a brush with colors, or a song itself. Such thoughts occurred to me as I was listening to this new album, 'Travelogue,' which is the first chapter of the duo's journey.
Sound is the voice, color, air, and life itself. And, songs are wings. This is why two musicians of the same generation could naturally share the resonance of the heart of each song while inspiring each other via delicate interactions. In the diverse landscapes they see, their journey is a song itself, and if life is a journey, then it also resonates as the song itself.
The fact that many of the musical landscapes depicted on the various canvases of this album originated in the 20th century, and the fact that they were rearranged into a cello and guitar duo, reveal the history of the two instruments as well as the present direction of the two musicians' perspectives. Both are instruments with expansive memories of time and space, but much of these instruments' solo repertoire was largely developed in the 20th century. Not to mention the great performers have inspired the composers one after another, but also the map of Western music has been greatly expanded then. The works of great French, Argentine and Brazilian composers are featured in this album not only because they fit the sensibilities of the two performers perfectly, but also because of the background of the world around the time.
However, when travelling, all history exists in the present. This is what music is all about. A piece of music was born in the past, and now there are performers who are looking at it from their perspectives of the present time, opening up a new place for the music to be heard. Therefore, it is natural that it feels as if the graceful and radiant sceneries of music unfolded in 'Travelogue' were constantly vividly moving in front of our eyes.
It is a great pleasure to see Miyata and Ohagi, two brilliant musicians who have shown their natural talents from early on, meeting as a duo in this way. Both of them breathed fresh air into these masterpieces with their supple sensibilities for delicate nuances of tone colors. It is easy to say 'to play the music naturally', but it is in fact very hard to play a piece so naturally like singing a song while being highly skillful, without making the technical difficulties obvious. Meanwhile, it seems quite natural for the two musicians to have met and developed their collaboration as a duo, with an exquisite balance of two different instruments. This album, named 'Travelogue', is filled with the pure-hearted souls of the two musicians in every detail. With the high level of concentration, passion, and the intimate dialogue, the fresh breath of each musician is clearly present throughout the album.
According to what I have heard, Miyata and Ohagi found kindred spirits in each other when they exchanged words for the first time at the Seiji Ozawa Matsumoto Festival (renamed after the Saito Kinen Festival) five years ago. They have performed together several times since then, and just last year in 2019, they had their first duo recital. It soon led them to make their first album as a duo and to organize a concert tour.
"Meeting Yasuji Ohagi was a once-in-a-lifetime encounter for me. He is a musician with whom you can have a dialogue through music," Miyata says admiringly. "We share a similar world of music," the cellist continued. "Even if one of us plays the same piece with a different interpretation from the rehearsal, we can react to the new change in a positive way by embracing the change of one's interpretation together as a duo. It helps us to expand the scale of the music two or three times larger, which would be impossible if we play the same piece as a solo."
Meanwhile, Ohagi said his first strong impression of Miyata was "the singing spirit of the music naturally arisen from him. It's as if he were singing a song, and sometimes I hear incredibly rich expressions that go beyond singing. Even though I've heard the melody often and am familiar with it, there is always something new to discover through his performance. There is no end to the joy of music when we play together. He is also a wonderful human being who is honest with everyone, and I believe the same can be said for his way of approaching music." As the guitarist's words suggest, this must be the reason why their music contains the straightforward joy that moves the listeners who are on the same journey with them on this album.
Every time I listen to 'Travelogue', their music sounds new to me, as if I were listening to it for the first time. The dialogue between the two musicians' sensibilities is spontaneous and fresh, showing that they are both enjoying their journey as one while living the time of the music freely and vividly together. Compatibility is essential in any situation, and the joy of having the perfect partner to accompany on their journey can be felt throughout the performance. Their duet's sounds never become cloudy even when the music is deeply melancholic or sorrowful.
The two artists here are also painters, singers, carriers, skies, seas, winds, meadows, towns, lights, and shades. The cellist could also be a guitarist, and the guitarist could also be a cellist, in spirit. In this way, while exchanging the different sounds and touches of different instruments, the two live in the music at the same time, while adding brand-new colors to the journey that can only happen here.
About the compositions (Takaakira Aosawa)
1. Michel Legrand - Arrivée des camionneurs (Arrival of Caravan)
The original piece is from a scene of a French musical comedy film 'Les demoiselles de Rochefort (The Young Girls of Rochefort)', written and directed by Jacques Demy. Parisian Michel Legrand (1932-2019) composed the score to Demy's lyrics, following the huge success of his film score for 'Les Parapluies de Cherbourg (The Umbrellas of Cherbourg)'. It was screened in 1967. Set in a seaside town in Southwest France, the story unfolds with two beautiful twin sisters who are dreaming about going to Paris someday to find a romantic love. They are ready to celebrate the day of the fair that is soon coming to town. This piece appeared in the scene when young people started dancing at the town square after the arrival of the track caravan. In the opening of this album, the duo performed this Legrand introduction in a relaxed and lyrical way, hinting that something exciting is about to happen. This jazz-influenced song shows the versatility of Legrand, who has also worked with Miles Davis. Ryuta Tsunoda's arrangement has an intense coda, foreshadowing the Piazzolla we will hear later.
2. Astor Piazzolla - Tanti Anni Prima (Many Years Before)
Astor Piazzolla (1921-92) was one of the greatest musical adventurers of the 20th century, who revolutionized the traditional tango into a new style. He was born in Buenos Aires and studied with Alberto Hinastera before moving to Paris in 1954, where he studied with Nadia Boulanger who pointed out that 'tango is where the real Piazzolla is'. Among his many film scores, 'Tanti Anni Prima (Many Years Before)' was included in the 1984 film Enrico IV (Henry IV), directed by Marco Bellocchio. Originally written as 'Ave Maria', it was a lyrical song which was performed by an oboe and piano duet in the soundtrack of the film. For this album, the arrangement was made by Masakazu Tokutake. Based on Luigi Pirandello's play of the same title, Bellocchio's film is a freely adapted story of a wealthy gentleman who falls from his horse at a masked ball and believes himself to be a king.
3-5. Radamés Gnattali - Sonata for Cello and Guitar
This sonata, written by the Brazilian composer Radamés Gnattali (1906-1988), is the only piece that was originally written for cello and guitar among the duet pieces in this album. Gnattali, who was of Italian descent, was one of the greatest masters of Brazilian music in the 20th century. Besides well-known as a composer, he was also a conductor, orchestrator, and arranger, and did a lot of fruitful work without boundaries between classical and popular music. He was also a mentor, colleague and close friend of Antônio Carlos Jobim. This masterpiece sonata was written in Rio de Janeiro in 1969 and published as edited by his fellow guitarist Laurindo Almeida. It consists of three movements: Allegretto Comodo (comfortably fast), Adagio (slow), and Con Spirito (lively with spirit). It is a gorgeous sonata full of intense emotions and changes, with fine modulations and intonations as well as rich rhythmic color.
6. Frederic Chopin - The Cello Sonata in G minor, Op.65, III. Largo in B-flat major
From here, the album travels through Paris for a while in the transition from the 19th century to the 20th century. Frédéric Chopin (1809 or 1810-1849), who left Poland and settled in Paris, devoted most of his musical creativity to solo piano music. Another instrument that Chopin loved was the cello. Among them, the Cello Sonata in G minor, Op. 65, composed in 1845-1846, became one of Chopin's greatest works in his later years. The presence and cooperation of his close friend, cellist Auguste Franchomme, was a major factor in the success of this masterpiece, and the two performed this sonata together at Chopin's last concert in Paris, at the Salle Pleyel on February 16, 1848. The third movement of the four-movement sonata is a largo (B-flat major, three-halves time) with skillful modulations and a beautiful melody. With a superb arrangement by Yasuji Ohagi, the duo carefully brought each note to life with deep poetic sentiment.
7. Erik Satie - Je te veux (I want you)
This chic waltz, which translates as 'I want you,' was written by the French modern composer Erik Satie (1866-1925) around 1900, originally as part of his song collection 'Chansons de café-concert'. It was written for the popular singer Paulette Darty to a poem by Henry Pacory, and has been widely loved in various arrangements to this day, including the composer's own arrangement for solo piano, along with Satie's numerous other piano pieces that have unusual titles. It is a simple song with modesty and loneliness, yet the poetic sentiment is universal and timeless. In their own arrangements, Ohagi and Miyata exchange delicate nuances that are straightforwardly romantic without being cynical.
8. Maurice Ravel - Pavane pour une infante défunte (Pavane for a Dead Princess)
Maurice Ravel (1875-1937) embraced two directions: a well-balanced and clear orientation to classical beauty, and a quest for subtle new sounds. With his exquisite compositional skills, he created treasures of modern French music. 'Pavane pour une infante défunte' (Pavane for a Dead Princess) was written for solo piano in 1899, and was arranged as an orchestral version by the composer in 1910. The title evokes suggestive song titles as Satie's, but there was in fact no particular story behind this piece. It is said that the rhyming words were a major factor in naming of the piece. However, it is a masterpiece with a beautiful and delicate poetic sentiment that somehow seems to resonate with its title. Here, in an arrangement by Ohagi himself, the guitar delivers exquisite, intimate harmonies to accompany the heartfelt melody performed by Miyata's cello.
9. Astor Piazzolla – Oblivion (Oblivion)
'Oblivion' is one of Piazzolla's most famous and beloved melodies. As with 'Tanti Anni Prima', this is used in the film Enrico IV (Henry IV) directed by Marco Bellocchio, and 'Oblivion' is the primary piece in the film. Aldo Pagani, who had been Piazzolla's manager since he moved to Europe in 1974, was the producer of the soundtrack, which was also Piazzolla's first recording in Milan in many years. The title 'Oblivion' was conceived by Pagani. The original soundtrack album contains four versions of the piece: with bandoneon, trombone, oboe, and classical guitar, each playing the melody accompanied by a studio orchestra in Milan. Since then, this famous melody has been played in various arrangements. In this album, it was arranged by lute player Takashi Tsunoda.
10. Astor Piazzolla - Invierno Porteño (Buenos Aires Winter)
Piazzolla's 'Las Cuatro Estaciones (The Four Seasons of Buenos Aires)' was not originally conceived as one suite of four compositions. First, 'Verano Porteño (Buenos Aires Summer)' was written, then followed by 'Otoño Porteño (Buenos Aires Autumn)' which was recorded in 1969 and appeared on the Piazzolla Quintet's first album in four years. In the liner notes of the album, the composer announced the idea of 'Las Cuatro Estaciones (The Four Seasons of Buenos Aires)' to become a suite. Accordingly, the Piazzolla Quintet premiered the other two season pieces as new compositions during their six-month recital at the Teatro Regina in Buenos Aires from the end of 1969, which completed the whole 'Four Seasons' cycle. 'Invierno Porteño (Buenos Aires Winter)', which was the first track on the famous live recording from the Teatro Regina on May 17, 1970, is one of the most profound and beautiful pieces among all of Piazzolla's masterpieces. The passages reminiscent of Pachelbel's Canon that close the piece, also quite fascinating in the original version, are particularly memorable in Ryuta Tsunoda's arrangement here.
(English translation by Yuko Zama)